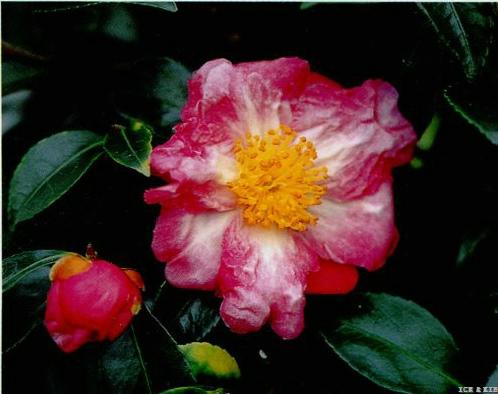 Type Image Chosen by Sueo Takano
Id:ICR-4583
Country:Japan
Year Published/Registered:1885
Cultivar Type:For Ornamental
Scientific Name:Camellia sasanqua 'Eikyū-shibori'
Species/Combination:C. sasanqua
Chinese Name:
Japanese Name:栄久絞 えいきゅうしぼり
Meaning:
Synonym:
Eikyu Striped American Camellia Yearbook, 1950, p.21. Synonym for Eikyū-shibori.
» English Description
Minagawa, Iza'emon, 1885, Nisshōen Chabaifu; Yashiroda, 1950, American Camellia Yearbook, p.21: Pink, deeper pink towards the petal edge, and white base. Large semi-double. Early flowering. Slow, spreading grower. See Encyclopedia of Camellias in Colour, vol.I, 1972, p.216, pl.551: Leaves glossy mid-green, 5-6.5 cm long x 2-2.8 cm wide, long and slender, slightly keeled, a little twisted, acuminate, serrated margins. Origi­nated in Japan. Synonym: 'Eikyu Striped'. Resembles 'Kokyō-nishiki'.