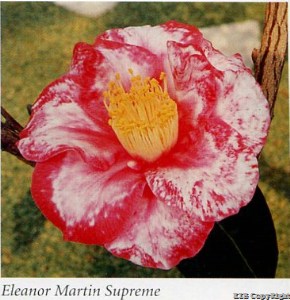 Type Image Chosen by wangzhonglang
Id:ICR-4620
Country:United States
Year Published/Registered:1964
Cultivar Type:For Ornamental
Scientific Name:Camellia japonica 'Eleanor Martin Supreme'
Species/Combination:C. japonica
Chinese Name:超级埃莉诺
Japanese Name:
Meaning:
Synonym:
Chaoji Ailinuo (Supreme Eleanor),Gao, Jiyin, Ltr 31 July 1990. Chinese synonym for Eleanor Martin Supreme.
» English Description
Gentry, 1964, ACS., The Camellia Journal, vol. 19, No.5, P.25. No description. American Camellia Yearbook, 1965, p.232, Reg. No.785: A sport of Eleanor Martin first observed 1959. Plant and flower same as Eleanor Martin except flower is moired up to 80% white. Originated by Caesar Breschini, San Jose, Califoria, USA. For colour photo see Macoboy, 1981, The Colour Dictionary of Camellias, pp.82, 83. Chinese synonym 'Chaoji Ailinuo'.
» Chinese Description
高继银、苏玉华、胡羡聪,2007. 《国内外茶花名种识别与欣赏》,第82页。美国加利福尼亚州Caesar Bres-chini先生培育,系'埃莉诺'(Eleanor Mar-tin)品种之突变。花浓红色,有大量的白色云状斑块,半重瓣型,大型花,花瓣15枚以上,宽圆形,外翻,边缘略皱褶,花心有黄色筒状雄蕊,花朵稠密。叶片浓绿色,椭圆形,光亮,偶有黄斑,植株开张,生长旺盛。花期中至晚。