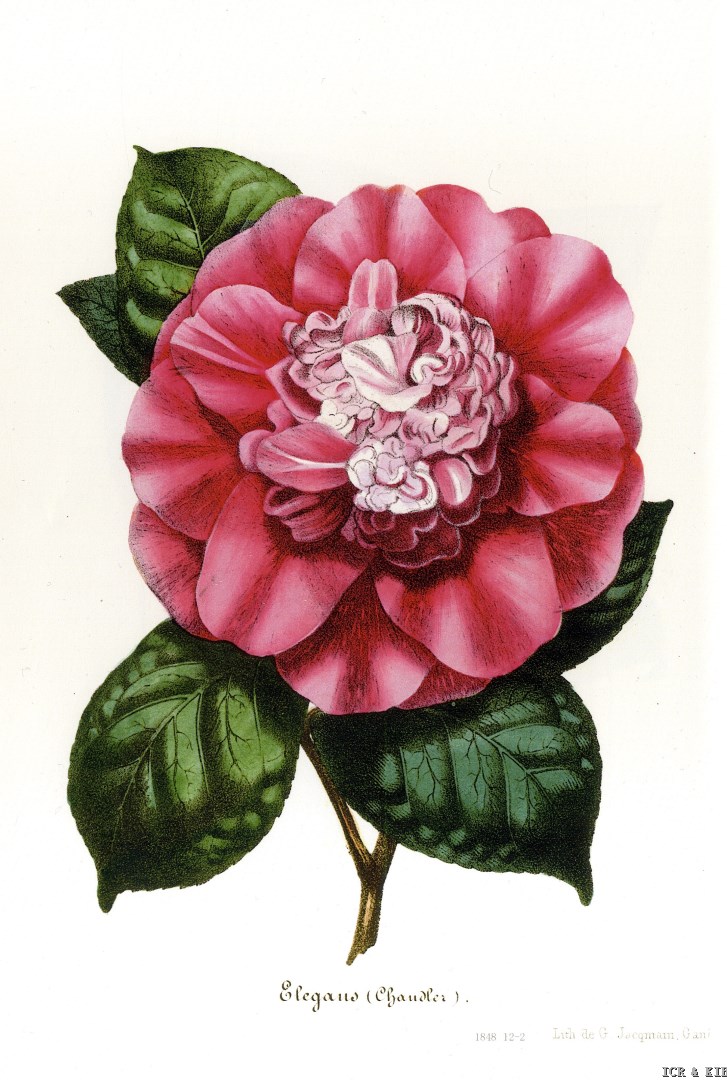 Type Image Chosen by Pat Short
Id:ICR-4639
Country:United Kingdom
Year Published/Registered:1830
Cultivar Type:For Ornamental
Scientific Name:Camellia japonica 'Elegans'
Species/Combination:C. japonica
Chinese Name:雅致
Japanese Name:
Meaning:
Synonym:
Candleri Elegans William Bull Retail Catalogue, 1867, p.73. Orthographic error for 'Chandleri Elegans', synonym for Elegans.
Chahua Shangren Gao, Jiyin, Ltr.25-5-1990. Chinese synonym for Elegans.
Chandelerii Elegans Thibauld, Paris, Nursery Catalogue, 1845, p.12. Synonym for Elegans.
Chandelerri Elegans Jan Duytschaever Export Nursery Catalogue, 1980-1981. Synonym for Elegans.
Chandelery Elegans Longone Nursery Catalogue, 1846. Synonym for Elegans.
Chandler Elegans Sharp, 1948, Camellias Illustrated, p.125, 126. Synonym for Elegans.
69 show +
» English Description
Jacob-Makoy, 1830 Catalogue, p.6. No description. Chandler & Booth, 1831, Illustrations and Descriptions of the plants which compose the Natural order of Camellieae..., p.26, pl.26: Originated from the seed of the 'Warratah' (Anemoniflora) planted by Alfred Chandler of Vauxhall, England in 1823 and described in the above publication as being "of a very delicate rose and measuring from three and a half to four inches (8.5-10 cm) in diameter". Elegans is HCC. Rose Opal 022 in colour with slightly darker venation. It is an anemone form and can grow up to 12.5 cm across. The plant is spread­ing, loosely branched, open and vigorous. Its foliage is deep green, glossy, flat, broadly elliptic; apex shortacuminate, decurved, margins shallowly serrate, averaging 11 cm long x 6.5 cm wide. Early in its history, to separate it from another, much inferior cultivar, also called 'Ele­gans' by Baumann & Baumann, the word 'Chandleri' or 'Chandlers' was sometimes attached to it. This, unfortunately, has caused more confusion than it has saved as it has involved another of Chandler's seedlings named Chandleri. Many synonyms and orthographic vari­ants have been applied to it, some of which are as follows: 'Elegans (Chandler)', 'Elegans Chan­dleri', 'Elegant', 'Chandleri Rosea', 'Rosea Chandler', 'Chandleri Pink', 'Chandleri Elegans Pink', 'Chandlers Elegans', 'Pink Elegans', 'Pink Chandleri Elegans', 'Elegans (Chandler) Pink', 'Elegans Loudonensis', 'Chandleri Pulcherrima', 'Pulcherrima', 'Francine', 'Pink Francine', 'Gloria Angliae', 'Crewii', 'Lord Crew', 'Veigans', 'Rollini Vera', 'Mr Chandler's Ele­gant Camellia', 'Elegans de Chandler', 'Chandler Elegans Rose Red'. Orthographic errors include: 'Chandlery Elegans', 'Chanderleri Elegans', 'Chandelerri Elegans', 'Roulini', 'Rol­lenii', 'Bollenii'. Chinese synonyms: 'Yazhi', (Elegant) and 'Meihong Manao'. A whole family of mutations have arisen from this cultivar. They include: Elegans Variegated, Barbara Woodroof, C.M. Wilson, Elegans Miniata, Theo's Mini, Elegans Supreme. These have produced a second generation of mutations which include: Hawaii, Kona, Shiro Chan, Snow Chan, Elegans Splendor, Elegans Champagne and Maui. For colour illustrations see: p.113, Fairweather, 1979, Rhododendrons and Azaleas; p.83, Macoboy, 1981, The Colour Dictionary of Camellias and Fendig, 1949, American Camellia Catalogue. In 1981 it received "The National Hall of Fame Award" from the ACS and the RHS., in 1958, awarded it a First Class Certificate.
» Chinese Description
高继银、苏玉华、胡羡聪,2007. 《国内外茶花名种识别与欣赏》,第82页。英国Alfred Chandler先生培育,系由'莲花'(Anemoniflora)品种的实生苗而得。花玫瑰红色,花心小花瓣偶尔有白色斑块,托桂型,大到巨型花,外部花瓣平铺,先端凹,内部小花瓣直立簇拥呈团状,花心有金黄色雄蕊混生,花朵稠密。叶片浓绿色,椭圆形,叶齿尖,植株开张,生长缓慢。花期早至中。