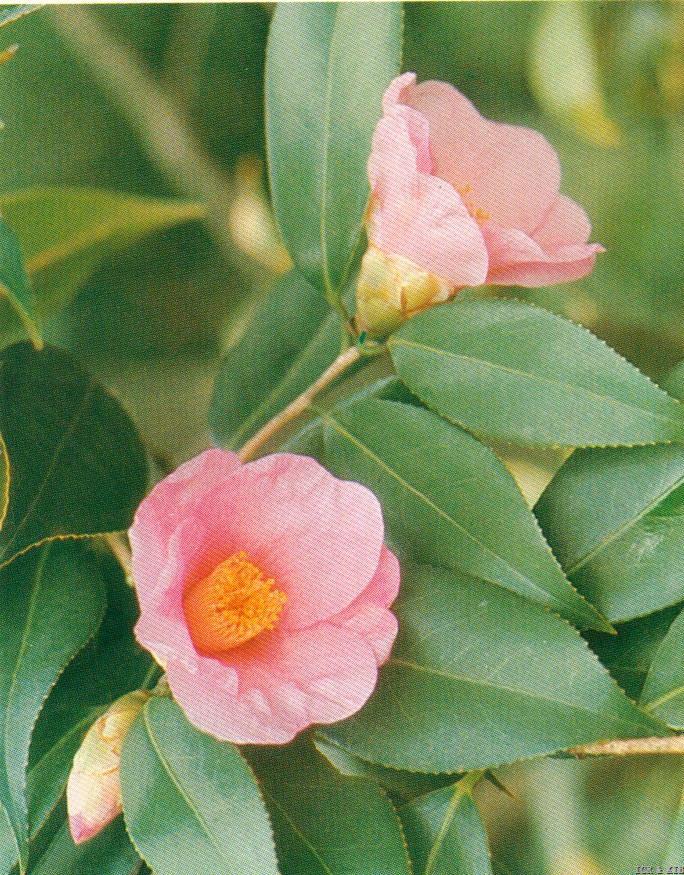 Type Image Chosen by wangzhonglang
Id:ICR-19171
Country:Japan
Year Published/Registered:1739
Cultivar Type:For Ornamental
Scientific Name:Camellia 'Tarōkaja'
Species/Combination:Wabisuke
Chinese Name:太郎冠者
Japanese Name:太郎冠者 たろうかじゃ
Meaning:Name of Comedian Kyogen Drama
Synonym:
Awa-wabisuke Savige, 1974, International Camellia Journal, No.6, p.29. Synonym for Tarōkaja.
Bunzō-wabisuke Savige, 1974, The International Camellia Journal, No.6, p.29. Synonym for Tarōkaja.
Judith McIlhenny, 1937, 600 Varieties of Camellias. Synonym for Tarōkaja.
Kochō-usu-wabisuke Chūbu Tsubaki Kyōkai, 1960; Watanabe, 1960, Kyōto Engei Kurabu, Tsubaki Tokushū, No.1, p.57. Synonym for 'Momoiro-wabisuke' (Tarōkaja).
Koshikibu Andoh, 1971, Tsubaki – Meika no Shōkai to Saibai, p.9, pl.22. Synonym for Tarōkaja, a local name in Chōfukuji, Kyōto, Japan.
Momoiro-wabisuke Wada, 1941, Japanese Garden Treasures, p.28. Synonym for Tarōkaja.
22 show +
» English Description
Itō, Jukyū, 1739, Honzō Hanamaki'e, vol.15; Kasuya, Kamegorō, 1859, Tsubaki Irohanayose Irotsuki: Medium size, single, pale purple, very early blooming. Itō, Ko'emon, 1879, Chinkashū: Pink, small, single. Early blooming. Tuyama, 1968, Camellias in Japan, pl.399, p.203, description, p.208: Branchlets erect and straight, bark greyish to greyish white. Leaves narrowly elliptic to broadly lanceolate, venation impressed, petioles glabrous. Flowers single, 7-8 cm across, light pink (Rhodomine pink 527/1), petals, 5-6, arcuated half above, horizontally spreading and wrinkled all over. Staminal tube orange yellow. Blooms early to mid-season. In rare cases produces viable seeds and is the parent of divers wabisuke type cultivars. See: Tuyama, 1966, Camellia Cultivars of Japan, pl.222, p.390; Encyclopedia of Camellia in Colour, vol.I, 1972, pl.188, p.362; p.137, Yokoyama & Kirino, 1989, Nihon no Chika. In the Journal of Japanese Botany, 1910, Makino raised this member of the Wabisuke group to species rank as Thea reticulata, Tarōkaja' becoming Thea reticulata var. rosea, but this is invalid as Lindley, (1827) had already used reticulata in the camellia genus. In 1952 Kitamura reclassified Thea reticulata var rosea as the species Camellia uraku but in 1970 reverted to it being a form of Wabisuke. A large and ancient plant of Tarōkaja grows in the garden of the Buddhist Temple Tōji-in, Sakyō-ku, Kyōto where it was known as 'Wabisuke' and is the origin of the use of that name for this cultivar. Around Kyōto it is also known as 'Momoiro-wabisuke'. Another Japanese synonym is 'Bunzō-wabisuke', a name given to one individual plant. Like­wise a specific plant in the convent Chōfukuji, Kyōto is called 'Koshikibu'. The famous Tea Master, Oda, Urakusai (Lord Oda Nagamasu) favoured it as a variety most suitable for the tea­house arrangement. (Chabana) Oda Uraku. was the younger brother of Oda Nobunaga, a famous 16th Century Shōgun and a contempory of St. Francis Xavier. The word 'Uraku' is Zen Buddhism for 'Existing Pleasure'. Further Japanese synonyms are 'Tosa-tsubaki', 'Tarōkaja-­tsubaki', 'Koshikibu' and 'Uraku'. Its variegated form is known as 'Tarōkaja-shibori'. Different readings are 'Tarohkaja' and 'Tarōkanja'. Its Western synonym is 'Judith'. The cultivar is common on main­land China and may have originated there. Corruptions of its name are: 'Taro-Kandjia', 'Tarō-­Kanjia', and 'Taro-kwanja'. For botanical drawings, colour photo and description see pp.9-12, Kyōto Engei Kurabu, 1982Tsubaki Tokushū, No.11. The comedy character Tarōkaja is a raw country bumpkin servant whose dialect is not understood by his educated master and vice­-versa, the misunderstandings arising from this cause them to perform a comic dance.