Type Image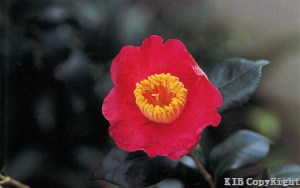 Chosen by wangzhonglang
Id:ICR-22599
Country:Japan
Year Published/Registered:1994
Cultivar Type:For Ornamental
AGM Type:
Scientific Name:Camellia japonica 'Aka-kamo-honnami'
Species/Combination:C. japonica
Chinese Name:
Japanese Name:赤加茂本阿弥 あかかもほんなみ
Meaning:Red "Kamo honnami"
Synonym:
Aka-kamohonnami Different typing in JCS. 2010. Latest Illustrated Book of Japanese Camellias (Camellias of Japan). p.85. for Aka-kamo-honnami
» English Description
Nippon Tsubaki - Sasanqua Meikan, 1998, p.11 with colour photo; English translation p.6. Deep red, bowl shaped single, tips of pistils stick out from buds, tubular stamens. Flowers early to mid-season. Leaves large, broadly elliptic. Upright growth. A mutation which appeared at the rootstock of a plant of Kamo-honnami at an old family home in Komatsu Town, Ehime Prefecture.