Type Image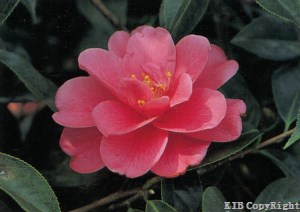 Chosen by wangzhonglang
Id:ICR-22779
Country:Australia
Year Published/Registered:1977
Cultivar Type:For Ornamental
AGM Type:
Scientific Name:Camellia japonica 'Aka-miyakodori'
Species/Combination:C. japonica
Chinese Name:赤都鸟
Japanese Name:赤都鳥 あかみやこどり
Meaning:Red "Miyakodori"
» English Description
Alpen, 1977, ACRS, Camellia News, No.63, p.9: Deep red without any blue tint. Medium sized semi-double of lotus form. Nippon Tsubaki - Sasanqua Meikan, 1998, p.14 with colour photo; English translation p.8. Large, deep rose pink, lotus form. Flowers mid-season to late. Leaves narrowly elliptic, large, plicate at the centre rib. Uprightgrowth, multi-stock type, sparsely branching. A plant about 150 years old is growing in the suburb of Sofu'e Town. Named by Minoru Satō in 1976.