Type Image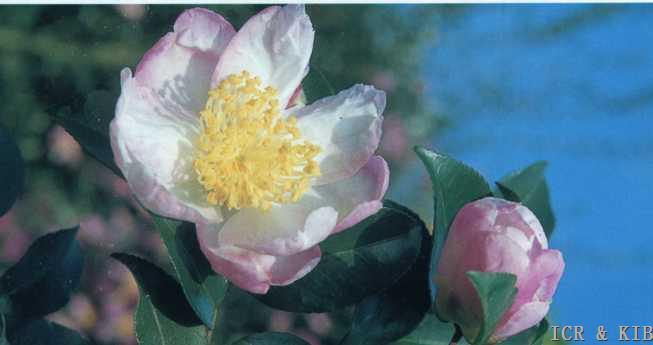 Chosen by wangzhonglang
Id:ICR-22832
Country:Japan
Year Published/Registered:1957
Cultivar Type:For Ornamental
AGM Type:
Scientific Name:Camellia sasanqua 'Akeyukusora'
Species/Combination:C. sasanqua
Chinese Name:
Japanese Name:明行空 あけゆくそら
Meaning:Dawning
Synonym:
Yoake-no-sora (Sky at Dawn). "Sasanquas, The Winter Flowers" ICS Congress, Kurume 2010, English translation, p.64; Synonym for Akeyukusora.
» English Description
Shimada, Yaichi, 1957, Kumamoto no Sazanka ni Tsuite, Dantairin, p.7 as 'Akeyuku-sora': The flower blooms in November (early) and is about 13 cm in diameter. It has 7 petals with white shading to pink at petal edge which is curled. Originated in Kumamoto Prefecture, Japan. Selected and named by Sadatsugu Yamasaki in 1902.
» Japanese Description
誠文堂新光社.1998.《日本ツバキ.サザンカ名鑑》.p.290. 国立歴史民俗博物館. 2009. 《冬の華・サザンカ》. P.50. 熊本產. 【花】白地に弁縁から桃紅色のぼかし、一重、全開後も弁端が抱える、中〜大輪、11〜12月。【葉】長楕円、やや大形。【樹】立14、強い。【来歴】1902年に山崎貞嗣により選出•命名。'夜明けの空'は誤用。写•文/箱田。
日本ツバキ協会2021《新撰サザン力名鑑》,p33. 熊本県(肥後サザン力)産 サザン力系. 花色白地に弁縁から桃紅色のぼかし 花形7-8弁の一重、抱え 咲きで、全開後も弁端が抱える、花径10-12cmの中-大輪 開花期 11月上旬-12月 花弁 倒卵形で弁端深く凹人、隆起し た皺が多く、やや薄 雄蕊80-100本、美しい梅蕊となって花 中に広がり、花糸は黄白色で細く、長さ18-20mm、はじめは基 部が合着するが分離して散る。葯は濃黄色 雌蕊花柱は萤白色 で長さ11-12mm、真直ぐで上部の約1/2が3-4分岐する。 子房には絹状毛が密生し、花柱基部にまで及ぶことがある 葉柄 細く、長さ5-6mm、葉柄から表面主脈にかけて有毛で、 裏面主脈は無毛か時には微毛がある 葉身長楕円形の中葉、長 さ5.7-6cm、幅2.7-3cm。銳頭で銳脚。主脈に沿って中折れは 浅く、先端部だけ反曲。葉縁には片側で20-24個の尖った粗鋸 歯がある 葉色表面は光沢強く濃緑色で側脈と網脈は不鮮明、 裏面は灰緑色 樹性立性で強い、枝はよく伸長する 来歷 1902年に山崎貞嗣により選出,命名された美しい肥後サ ザン力で人気がある1957島田、1971粟屋、1975肥後銘花 集* 1986肥後六花* 1998名鑑* 2013肥後品種表* 所在 肥後さざんか協会、神代、大島公園、ぐんまFP. 写/文 箱田.