Type Image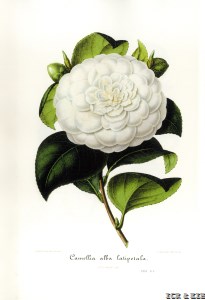 Chosen by Gianmario Motta
Id:ICR-90
Country:Italy
Year Published/Registered:1851
Cultivar Type:For Ornamental
AGM Type:
Scientific Name:Camellia japonica 'Alba Latipetala'
Species/Combination:C. japonica
Chinese Name:
Japanese Name:
Meaning:
Synonym:
Alba Latipetali Fendig, 1953, American Camellia Catalogue. Orthographic error for Alba Latipetala.
» English Description
Ambroise Verschaffelt, 1851-1852, Catalogue Général, p.15. Verschaffelt, 1854, Nouvelle Iconographie Book VI, pl.3: It is unquestionably one of the whitest perfection known. The very large flowers (11 cm across) are composed of quite numerous, large, rounded petals; convex, emarginate and perfectly imbricated. At the centre the petals are small, spread out and sub-undulate at the edges. It is of Italian origin. Orthographic error: 'Alba Latipetali'.