Type Image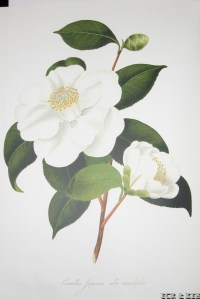 Chosen by Gianmario Motta
Id:ICR-131
Country:United Kingdom
Year Published/Registered:1831
Cultivar Type:For Ornamental
AGM Type:
Scientific Name:Camellia japonica 'Alba Semiduplex'
Species/Combination:C. japonica
Chinese Name:
Japanese Name:
Meaning:
Synonym:
Palmer's Semi-double White James Burnett, ed., 1837, Magazine of Botany & Gardening, new ser. vol.3, p.150. Synonym for Alba Semiduplex.
» English Description
Chandler & Booth, 1831, Illustrations and Descriptions of Plants which compose the Natural order of Camelleae, pl.33: Acording to J. Reeves esq., dated Canton, 1826, that Mr Beale was the first to send a plant of this variety to England. The flower consists of 8 or 9 roundish petals, ranged in 2-3 rows, and averaging more than 10 cm across. They are, at first, bell-shaped but gradually open out nearly flat; as well as the column of stamens which is short and divided into separate parcels. The largest petals are round and about 4 cm in diameter, the others are roundish-oblong and a little smaller. Synonym: 'Semi-double White'.