Type Image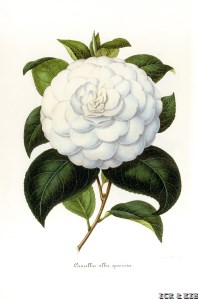 Chosen by Gianmario Motta
Id:ICR-142
Country:Belgium
Year Published/Registered:1849
Cultivar Type:For Ornamental
AGM Type:
Scientific Name:Camellia japonica 'Alba Speciosa'
Species/Combination:C. japonica
Chinese Name:
Japanese Name:
Meaning:
Synonym:
Alba Speciosissima Hazlewood & Jessep, 1972, Checklist - Camellia Cultivars from Nursery Catalogues, p.5. Orthographic error for Alba Speciosa.
» English Description
Verschaffelt, 1849, Nouvelle Iconographie, Book X, pl.III: Obtained from seed in our establishment, this variety bloomed this year. The bloom is large, of the purest white we know, and is remarkable for the amplitude and deep emargination of its regularly imbricated and perfectly rounded petals. At the centre they become smaller and form a small umbilicate heart, lightly tinged with yellow. Originated in Belgium. Orthographic variants: 'Speciosa Alba', 'Alba Speciosissima'.