Type Image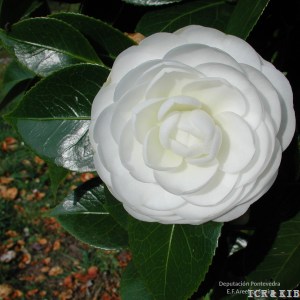 Chosen by Gianmario Motta
Id:ICR-21736
Country:Spain
Year Published/Registered:2006
Cultivar Type:For Ornamental
AGM Type:
Scientific Name:Camellia japonica 'Albear'
Species/Combination:C. japonica
Chinese Name:阿贝尔
Japanese Name:
Meaning:
Synonym:
阿贝尔 新竹市茶花产销班目录,2002-2006, P.48, A26.
» English Description
It was originated in Galicia and registered by ESTACIÓN FITOPATOLÓXICA AREEIRO, PONTEVEDRA. SPAIN in 2006. Published in Camelia, journal of Sociedad Española de la Camelia-Spain.2006, 8:41, as well as in La Camelia en la Colección de la Diputación de Pontevedra, 2004, 298pp. p95. FLOWER: formal double, imbricated, medium size (around 8 cm in diameter), pure white, with around 80 petals. LEAF: dark and glossy green, 10 cm long and 6.5 cm wide, ovate, with serrate margin, acuminate apix and rounded base. PLANT: compact shrub, upright, slow growth and round shape. The blooming period starts in December and extends until April. The flower looses petals when it falls.