Type Image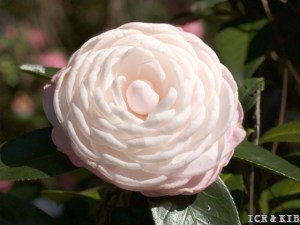 Chosen by Gianmario Motta
Id:ICR-338
Country:United States
Year Published/Registered:1979
Cultivar Type:For Ornamental
AGM Type:
Scientific Name:Camellia japonica 'Amazing Graces'
Species/Combination:C. japonica
Chinese Name:
Japanese Name:
Meaning:
Synonym:
Jingmei Chinese synonym for USA C. japonica Amazing Graces.
» English Description
American Camellia Yearbook, 1979, p.102, Reg.No.1574: A small, sweet pea pink, formal double C.japonica, ('Dr Tinsley' x 'Letitia Schrader'). Mid-season blooming. Originated by Mrs Henry Stone, Baton Rouge, Louisiana, USA. The 8 year old seedling first flowered 1976 and has 48 petals. Average size, 7 cm across by 3.2 cm deep. The inner two thirds of the flower is the palest blush, almost white; outer flat petals are pink of 'Dr Tinsley'; imbri­cated petals form 8 complete swirls, outer petals, smooth and slightly turned up. Plant growth, upright, open and medium in rate, with mid green leaves 7.5 cm x 3.7 cm. Chinese synonym: 'Jingmei' .