Type Image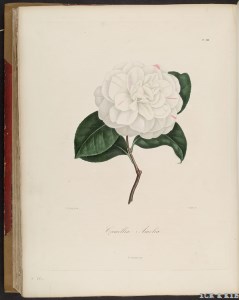 Chosen by Gianmario Motta
Id:ICR-353
Country:France
Year Published/Registered:1843
Cultivar Type:For Ornamental
AGM Type:
Scientific Name:Camellia japonica 'Ameliae'
Species/Combination:C. japonica
Chinese Name:
Japanese Name:
Meaning:
Synonym:
Amalia di Berlèse Medici Spada, 1858, Catalogo nel Giardino a Villa Quiete, p.4. Synonym for Ameliae.
Amalia Farraggiana Contini & Nava Catalogue, 1915. No description. Orthographic error for Ameliae.
Amalia Servii Hazlewood & Jessep, 1972, Checklist - Camellia Cultivars from Nursery Catalogues, p.8. Orthographic error for Ameliae.
Amalia Seryi da Silva, 1880, Forcing varieties of Camellias in Oporto, p.1. Orthographic error for Ameliae.
Amelie Cachet Catalogue, 1840-1841, p.2. Orthographic variant for Ameliae.
2 show +
» English Description
Berlèse, 1843, Iconographie, pl.162 and facing page entitled 'Camellia Amelia': The flower is 12 cm across, full, regular, of a soft, pure white, sometimes rose with 4 or 5 lines of blood red, sometimes one or two petals are red in lieu of stripes. The petals are in 6 rows, well co-ordinated; the exterior ones are broad, ovate, rounded, strong, notched and numerous; those following are oblong or strap-like, uneven and channelled. The best flowers are imbri­cated with regularity; a small number of those at the centre are unequal, bent and shell-like. Synonym: 'Amelia di Berlèse'. Orthographic variants: 'Amelie', 'Amelia', 'Amelii'. Originated in France.