Type Image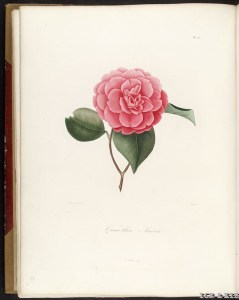 Chosen by Gianmario Motta
Id:ICR-374
Country:Italy
Year Published/Registered:1840
Cultivar Type:For Ornamental
AGM Type:
Scientific Name:Camellia japonica 'Amiri'
Species/Combination:C. japonica
Chinese Name:
Japanese Name:
Meaning:
Synonym:
Amirii Cachet Catalogue, 1840-1841, p.2. Orthographic error for Amiri.
» English Description
Cachet Catalogue, 1840-1841, p.2. No description. Catalogue General des plantes Cultivées dans L'Establishment de la Société d'Horticulture de Belge, 1842, p.21 as 'Amirii'. No description. Berlèse, 1843, Iconographie, ed.2 and facing pl.252, (as 'Amirii' pl.252): The flower, of 10 cm in diameter, is full, regular and round roselike, of the colour, vivid carmine red. The exterior petals are in 5 rows and are 2 cm in width and length, rounded but deeply notched and well imbricated. The centre is composed of an uncertain number of petals, small but complete, long, narrow, acuminate, some ovate. Orthographic error: 'Amirii'. Originated in Italy.