Type Image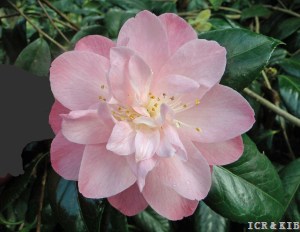 Chosen by Gianmario Motta
Id:ICR-491
Country:United States
Year Published/Registered:1960
Cultivar Type:For Ornamental
AGM Type:
Scientific Name:Camellia japonica 'Ann Sothern'
Species/Combination:C. japonica
Chinese Name:
Japanese Name:
Meaning:
Synonym:
Anne Southern Burncoose & Southdown Nursery Catalogue, 1988, p.16. Orthographic error for Ann Sothern.
» English Description
American Camellia Yearbook, 1960, p.193, Reg. No.462: A 12 year old seedling of Rosary, originated by Earl Hudson, Sun Valley, California, USA that first bloomed 1954. Plant growth is upright, bushy and fast. Leaves average 11 cm long by 6 cm wide and are curled similar to Arabella. The flowers are 11-13 cm across and 6-7.5 cm deep, resembling Ville de Nantes in form with 17-20 petals and 1-3 petaloids erect amongst gold tipped stamens with white filaments. Blooming season is long, from early to late. Orthographic error: 'Anne Southern'. See colour photo p.70, Macoboy, 1981, The Colour Dictionary of Camellias.