Type Image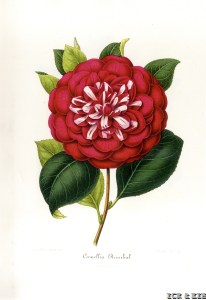 Chosen by Gianmario Motta
Id:ICR-562
Country:Italy
Year Published/Registered:1846
Cultivar Type:For Ornamental
AGM Type:
Scientific Name:Camellia japonica 'Annibal'
Species/Combination:C. japonica
Chinese Name:
Japanese Name:
Meaning:
Synonym:
Annibale Maupoil & Figlio Catalogue, 1853, p.37. Orthographic error for Annibal.
» English Description
van Houtte, 1846-1847, Catalogue, 27:19. No description. Auguste van Geert Nursery Catalogue, No.117, 1850, p.2: Imbricated, dark red. Central petals with broad white stripes. Verschaffelt, 1850, Nouvelle Icongraphie, Book I, pl.IV: A richly coloured perfection received two years ago from Italy. The blooms, of average size, are a bright poppy red; at the centre only, are broad, pure white stripes, faintly striated with red, stand out. The perfectly imbricated petals are rounded and deeply emarginate. At the centre they are oblong, outspread and streaked. This variety should not be confused with an inferior variety grown for several years.