Type Image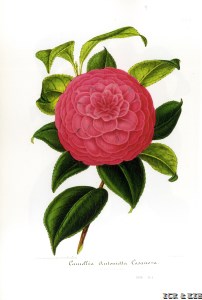 Chosen by Gianmario Motta
Id:ICR-595
Country:Italy
Year Published/Registered:1855
Cultivar Type:For Ornamental
AGM Type:
Scientific Name:Camellia japonica 'Antonietta Casanova'
Species/Combination:C. japonica
Chinese Name:
Japanese Name:
Meaning:
Synonym:
Antonietta Casa Nuova Waterhouse, 1955, American Camellia Yearbook, p.81. Orthographic error for Antonietta Casanova.
Antonietta Casanuova Mercatelli Catalogue, 1881. Orthographic variant for Antonietta Casanova.
» English Description
Franchetti, 1855, Collezione di Camelie, p.10: Raised by Cesare Franchetti, Florence, Italy: Large, flat flower, perfectly imbricated in the form of a spiral. Bright red with some small, white stripes and sometimes with the centre striped. Verschaffelt, 1856, Nouvelle Iconographie, Book VIII, pl.I: The blooms, larger than the average, are composed of numerous petals, regularly imbricated, rounded at the circumference, oval at the centre, where they form a small, open heart. The colouring is a vivid cherry red, more delicate at the centre, where there appears faint, whitish, longitudinal lines. The foliage is small. Orthographic vari­ants: 'Antonietta Casanuova', 'Antoinette Casanovae', 'Antonietta Casa Nuova'.