Type Image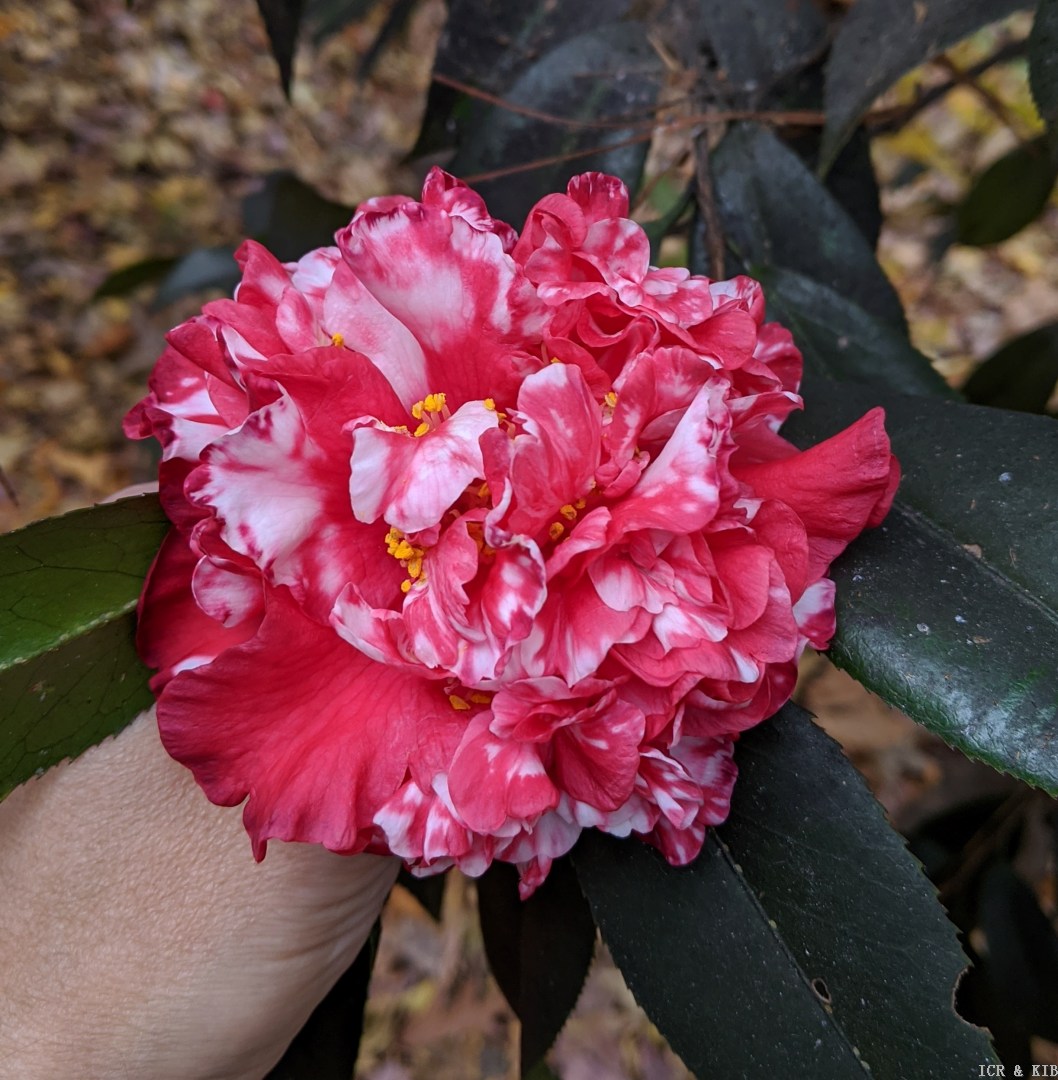 Chosen by wangzhonglang
Id:ICR-660
Country:United States
Year Published/Registered:1879
Cultivar Type:For Ornamental
AGM Type:
Scientific Name:Camellia rusticana 'Arajishi'
Species/Combination:C. rusticana
Chinese Name:
Japanese Name:荒獅子 あらじし
Meaning:Fierce lion
Synonym:
Abetishii Camellias at Wisley, 1950 list. Corruption of the Japanese name Arajishi.
Aloha Coolidge Catalogue, 1936. Synonym for 'Beni-arajishi', erroneously for Arajishi.
Aloha Variegated Fruitland Nursery Catalogue, 1946-1947, p.27. Synonym for Arajishi.
Ara Jisji Hazlewood & Jessep, 1972, Checklist - Camellia Cultivars from Nursery Catalogues, p.13. Corruption of the Japanese name Arajishi.
Aragishi Vanderbilt, 1940, Camellia Research, p.2. Corruption of Japanese name, Arajishi.
25 show +
» English Description
Itō Ko'emon, 1879, Chinkashū: Dark red, mottled white, large peony form. Tuyama, 1966, Camellia Cultivars of Japan, pl.35, p.66; Tuyama, 1968, Camellias of Japan, colour photo No.307, p.155, description, p.182: White blotched form of the variety Beni-­arajishi. It is a full peony form, 8-9 cm across with obcordate outer petals, emarginate, numer­ous, small petals and petaloids, variously twisted and irregular, forming a central mass, intermingled with a few stamens. The colour is Currant Red, HCC, 821/2 with scattered white markings. Leaves, dark, glossy green, characteristically narrow-elliptic, long acuminate, with deeply and coarsely serrate or bi-serrate edges. New growth carries easily visable hairs on the petiole and midrib. Early flowering. This cultivar is widely grown. In the West, particularly the USA, it is often the solid red form, erroneously as 'Arajishi'. The solid red form is Beni-ara­jishi, of which the variegated form, Arajishi is a sport. Different readings are: 'Arejishi', 'Areshishi'. Corruptions of the Japanese name: 'Aragishi', 'Arajishu', 'Arajisi', 'Arajisha', 'Are Jisji', 'Arijishi', 'Arejeshi', 'Arazishi', 'Arejisji', 'Arejishii', 'Areshishi', 'Arejishi Variegated'. Synonyms: 'Heckla', 'Lady Alice', 'Aloha', 'Arajishi Waratah', 'Arajishi Variegated', 'Arajishi­fuiri' and, erroneously: 'Akakarako'. See colour photos: See Encyclopedia Of Camellias in Colour, vol.I, 1972, pl.292 & p.334. Seibundō Shinkōsha, 1979, Senchinshū, p.14. Originated in Japan. Chinese synonym: 'Huangshizi'.
» Chinese Description
高继银、苏玉华、胡羡聪,2007. 《国内外茶花名种识别与欣赏》,第32页。日本江户一带。花浓红色,中部小有白色斑块,牡丹型,中到大型花,外轮花瓣宽圆,略外翻,中部小花瓣扭曲簇拥,偶见少量黄色雄蕊外露,花朵稠密。叶片中等绿色,阔椭圆形,叶齿尖,叶柄有毛,植株立性,生长旺盛。花期早至晚.
朱國棟、蔡燦玉,2011. 《台灣茶花族譜》,p.16. Arajishi 荒狮子 C. rusticana Arajishi荒狮子(C. rusticana)雪茶,1879,日本关东。Beni-arajishi (红荒狮子)病毒感染入白斑品种。半重瓣唐子、浓红色底、小白斑、中轮(7.5〜9x4〜4.5cm)、花期12〜3月、大型长椭圆叶、边缘锯齿、叶柄有毛、树性直立〜横张、长势强。同种异名:Aloha Variegated、Arajishi-fuiri (荒狮子斑入)、Arajishi Variegated、Arajishi Waratah、Heckla Arajishi。Arajishi (荒狮子)一茶花林目录 1992-2006, p.1/28, No.1461.