Type Image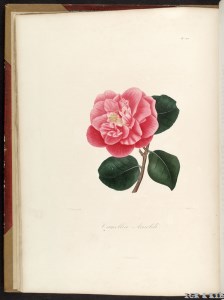 Chosen by Gianmario Motta
Id:ICR-743
Country:United States
Year Published/Registered:1840
Cultivar Type:For Ornamental
AGM Type:
Scientific Name:Camellia japonica 'Arnoldii'
Species/Combination:C. japonica
Chinese Name:
Japanese Name:
Meaning:
Synonym:
Arnoldo Verschaffelt, 1844-1845, Catalogue, p.22. Orthographic error for Arnoldii.
» English Description
Berlèse, 1840, Monographie, ed.2, p.90: Leaves, 8.4 cm x 5.6 cm, flat, lustrous, pale green; buds with yellowish green scales. Flowers 10 cm across, double, rose pink. Exterior petals, round, broad, in 3 rows. Those at the centre, are small and intermingled with the sta­mens. For illustation see Berlèse, 1843 Iconographie, p.202. Originated by Harrison, New York, USA. Orthographic error 'Arnoldo'.