Type Image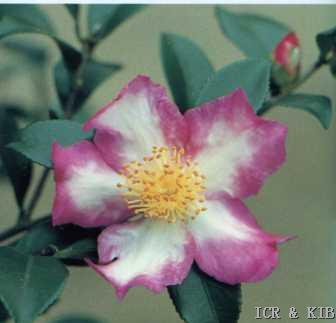 Chosen by wangzhonglang
Id:ICR-772
Country:Japan
Year Published/Registered:1898
Cultivar Type:For Ornamental
AGM Type:
Scientific Name:Camellia sasanqua 'Asahigai'
Species/Combination:C. sasanqua
Chinese Name:
Japanese Name:朝日貝 あさひがい
Meaning:
Synonym:
Asahikai Seibundō Shinkōsha, 1970, Garden Life, No.36, p.120.Different reading for Asahigai..
Ashi-gai SCCS, 1950, The Camellia. Its Culture and Nomenclature, p.69. Corruption of the Japanese name Asahigai.
» English Description
Ashizawa, 1898, Chabaika Taishū; Chūgai Nursery Catalogue, 1936-1937: Medium size, white single, 7.5 cm across, colour Solferno-Purple, (RHS,CC,26/1). Margins of the petals red. Petals are round, outwardly curved, and number 8-9 with slightly crêped margins. Stamens spreading, filaments light yellow, anthers golden yellow. Blooms very early. Originated in Kantō District, Japan. Corruption of Japanese name: 'Ashi-gai'.