Type Image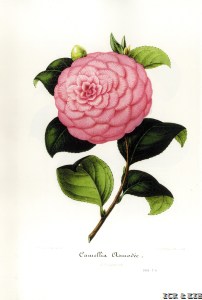 Chosen by Gianmario Motta
Id:ICR-817
Country:Italy
Year Published/Registered:1854
Cultivar Type:For Ornamental
AGM Type:
Scientific Name:Camellia japonica 'Asmodèe'
Species/Combination:C. japonica
Chinese Name:
Japanese Name:
Meaning:
Synonym:
Asmode de Bisschop Catalogue, 1935, p.9. Orthographic error for Asmodèe.
Asmodea von Biedenfeld, 1856, Practische Grundlehren der Culture von Camellien, p.33. Orthographic error for Asmodèe.
Asmodèe (Italia) Andrè, 1864, Plantes de terre de bruyères..., p.238. Synonym for Asmodèe.
» English Description
Verschaffelt, 1854, Nouvelle Iconographie, Book VII, pl.IV: Of Italian origin, this Camellia bloomed for the first time this year, (1854). Its bloom, above average in size, has per­fectly imbricated, numerous, regularly rounded petals, slightly emarginate, outspread, of a delicate pink colour, longitudinal veins of a deeper shade, unite to the margin which is mem­branaceous.