Type Image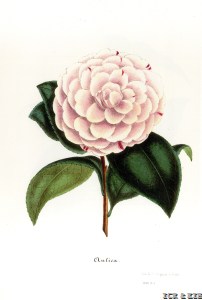 Chosen by Gianmario Motta
Id:ICR-886
Country:United Kingdom
Year Published/Registered:1847
Cultivar Type:For Ornamental
AGM Type:
Scientific Name:Camellia japonica 'Aulica'
Species/Combination:C. japonica
Chinese Name:
Japanese Name:
Meaning:
Synonym:
Auliaca Loureiro, 1872-1873, Catalogue No.9. Orthographic error for Aulica.
Aulica (Loddiges) Verschaffelt Catalogue, 1850, p.44. Synonym for Aulica.
Aulica Lodd Baxter & Wooster, 1850, Supplement. Loudon's Hortus Britannicus, p.508. Synonym for Aulica.
Aulica Loddiges Halliday Catalogue, 1880 as 'Aulica Lodiges'. Orthographic variants: 'Aulica'(Loddiges) 'Aulica Lodd'. Synonym for Aulica.
» English Description
van Houtte, 1847-1848, Catalogue, 33:34: White covered with thick veinlets, except as circumference where flower is pure white. Auguste Van Geert Catalogue, 1848, p.14: Very beautiful white petals, covered with pink veins, except the curcumference which is pure white. Verschaffelt, 1848, Nouvelle Iconographie, Book VIII, pl.I: This was obtained in England and put to sale by Loddiges last spring. The leaves, which measure not less than 10 cm by 7 cm, are elongated ovals, thick, of a dull green with bold nerves and deep serrations. The blossom, 9-10 cm in diameter, is full anemone shaped, the numerous petals are rounded, of a delicate pink, with deeper pink veining and a whitish pink at the margin with a few deep red stripes. Ortho­graphic error: 'Auliaca'. Synonym: 'Aulica Loddiges'.