Type Image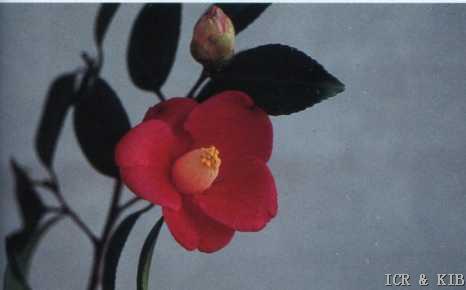 Chosen by wangzhonglang
Id:ICR-1078
Country:Japan
Year Published/Registered:1978
Cultivar Type:For Ornamental
AGM Type:
Scientific Name:Camellia rusticana 'Bā-no-ki'
Species/Combination:C. rusticana
Chinese Name:
Japanese Name:婆の木 ばあのき
Meaning:Grandmother's tree
Synonym:
Baba-no-ki Different reading for Bā-no-ki.
» English Description
Encyclopedia of Camellias in Colour, vol.II, colour plate, 259, 1978, p.115: A 5-6 petalled, scarlet red, cup-shaped to campanulate single with a pinched in central stamen cluster, filaments pure white. Size 7-8 cm across, 6 petals. Mid-season flowering. Leaves, elliptical, glossy green, thick, medium sized, apex blunt acute, base rounded, shal­lowly serrate. Selected from wild japonicas in Tamayu Town, Shimane Prefecture, Japan. Collected by Tora Iwata, named and released by San-in Camellian Club in 1970. Different reading 'Baba-no-ki'.