Type Image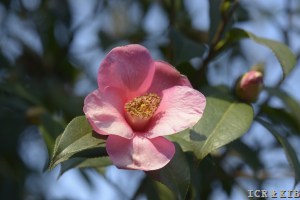 Chosen by Gianmario Motta
Id:ICR-1103
Country:United Kingdom
Year Published/Registered:1954
Cultivar Type:For Ornamental
AGM Type:
Scientific Name:Camellia reticulata 'Barbara Hillier'
Species/Combination:C. hybrid
Chinese Name:
Japanese Name:
Meaning:
Synonym:
Barbara Hiller ACS., 1955, American Camellia Yearbook, p.6. Orthographic error for Barbara Hillier.
Heterophylla Barbara Hillier Hillier & Sons Supplementary List, 10A.,1960-1961, p.8. Synonym for Barbara Hillier.
» English Description
RHS, 1954, The Rhododendron and Camellia Yearbook; Hillier, 1955, American Camellia Yearbook, p.6: Camellia x williamsii Barbara Hillier. This plant originated as a seedling in a garden near Romsey, and was selected for its distinctive leaves and habit before the plant flowered. The plant is more lax and open than most plants of this cross, with leaves more dis­tinctly spaced. The flowers as self satiny pink (Rose madder HCC 23/3),10-12 cm across, in size and quality recalling C.reticulata. They are a little deeper than 'J.C. Williams' with 6 broadly ­ovate to ovate petals, cleft at the apex; stamens 2.5 cm long, united for one third their length and arranged in a cylindrical mass. Leaves of firm rigid texture, small serrations, 6-9 cm long by 3.2-­4.8 cm wide. Originated in England. Sealy (1958) placed this cultivar in the section C.hetero­phylla which has more recently been placed by Chang (1981) as a cultivated form of C.reticulata. It is now considered that this cultivar is not a C.x williamsii as first reported, but a seedling of the wild form of C.reticulata. Orthographic error 'Barbara Hiller'.