Type Image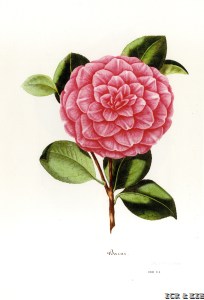 Chosen by Gianmario Motta
Id:ICR-1131
Country:Italy
Year Published/Registered:1839
Cultivar Type:For Ornamental
AGM Type:
Scientific Name:Camellia japonica 'Barni'
Species/Combination:C. japonica
Chinese Name:
Japanese Name:
Meaning:
Synonym:
Barni d'Italie van Houtte, Catalogue, 1843-1844, 18:8. Synonym for Barni.
Barni d'Italii Auguste van Geert, 1859, Catalogue, No.47, p.31.Orthographic error for 'Barni d'Italie', synonym for Barni.
Barnii Verschaffelt 1848, Iconographie Index. Orthographic error for Barni.
Barnii d'Italia Catalogo della Stablimento Agrario-Botanico di Castagnola e Casabono, 1867-1868. Synonym for Barni.
La Barni Claudio Volonte Catalogue, 1888, p.112. Synonym for Barni.
» English Description
Jacob Makoy et Cie Catalogue, 1839, p.16. No description. Berlèse, 1840, Monogra­phie, ed.2, p.109, 226; van Geert, 1846, Catalogue Général, p.63: Very beautiful, large flower, bright red with a white band in the centre of each petal. Synonym, 'Barni d'Italii'. Verschaffelt, 1848, Nouvelle Iconogaphie, Book III, pl.IV: This camellia was obtained from seed in Italy a few years ago. The shrub has a vigorous aspect; the leaves are oval, oblong, slightly curved at the apex, with smooth veining and regular serration, 8-9 cm long by 4-5 cm wide; the bud is ovoid with yellowish green scales; the flower is large, full, and quite open; the numerous, regularly imbricated petals are broad, somewhat emarginate, diminishing in size towards the centre and are a bright red with a veining of deeper red and intersected by a white stripe. Orthographic variant: 'Barnii'. Synonyms: 'Barni d'Italie, 'La Barni', 'Barnii d'Italia'. Paillet in Lemaire, 1844, Des Genres Camellias, Rhododendrons..., p.147 says: Synonym 'Carswelliana'. However, while their descriptions are similar, 'Carswelliana' is a seedling raised in the garden of W.F. Campbell, Lanarkshire, Scotland according to the Floricultural Cab­inet, vol.III, 1835, p.118.