Type Image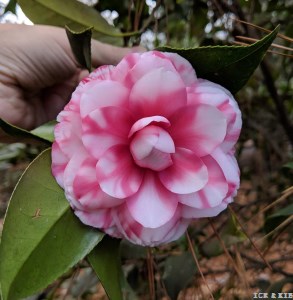 Chosen by Gianmario Motta
Id:ICR-1310
Country:France
Year Published/Registered:1850
Cultivar Type:For Ornamental
AGM Type:
Scientific Name:Camellia japonica 'Belle Jeanette'
Species/Combination:C. japonica
Chinese Name:贝利贞德
Japanese Name:
Meaning:
Synonym:
Cleopatra The Pacific Camellia Society, 1946, Camellia Nomenclature, p.8. Invalid synonym for Belle Jeanette as 'Belle Jeannette'.
贝利贞德 新竹市茶花产销班目录,2002-2006, p.49, B40.
» English Description
Ambroise Verschaffelt, 1850, General Catalogue. p.45. McIlhenny, 1935, List of Camellias for Sale, p.2: Red and white variegated. Very large, double blossoms. SCCS, 1947, The Camellia. Its Culture and Nomenclature: Rose red, flecked white. Medium formal double. Vigorous, bushy growth. Mid-season blooming. Not the variety listed in the old literature which was an Italian formal double red, with the centre shaded white, and is known as Bella Jeannette. There has been some confusion with this Ital­ian cultivar. In America the name 'Cleopatra' has erroneously been used as a synonym. It was imported from France to America.
» Chinese Description
朱國棟、蔡燦玉,2011. 《台灣茶花族譜》,p.25.
Belle Jeanette 贝利贞德 (C.japonica)红山茶 。 1935,美国。完全形、玫瑰红、白斑、中轮、花期1〜2月、丛生、长势强。花名:贝儿.珍妮特。
Belle Jeanette (贝利贞德)——新竹市茶花产销班目录,2002-2006, p.49, B40.