Type Image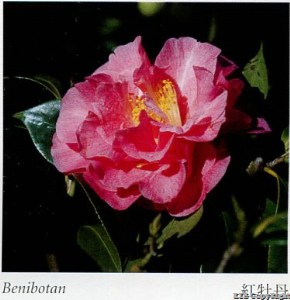 Chosen by Gianmario Motta
Id:ICR-1351
Country:Japan
Year Published/Registered:1859
Cultivar Type:For Ornamental
AGM Type:
Scientific Name:Camellia japonica 'Benibotan'
Species/Combination:C. japonica
Chinese Name:日本红牡丹
Japanese Name:紅牡丹 べにぼたん
Meaning:Red peony
» English Description
Kasuya, Kamegorō, 1859, Tsubaki Irohanayose Irotsuki in peony form section. Itō, Ko'emon, 1879, Chinkashū: Large, red peony form. The self red sport of Hikarugenji. See colour photos p.56, Macoboy, The Dictionary of Camellias in Colour, 1981. and p.93, Adachi, 1960, Camellia. Its Appreciation and Artistic Arrangement. See also, under the differ­ent reading 'Kōbotan' in the following publications: Tuyama, 1966, Camellia Cultivars of Japan, pl.26. Tuyama, 1968, Camellias of Japan, pl.l84. Encyclopedia of Camellias in Colour, vol.I, 1972, pl.171. Seibundō Shinkōsha, 1978, Senchinshū, p.53. Synonyms: 'Batista', 'Harmonious', 'Majes­tic', 'Radiant Glow', 'Rosy Dawn', 'Wings', 'Herme Sport No.l', 'Herme Red', 'Herme Rose', 'Pink Herme', 'Red Herme', 'Hikarugenji Pink', 'Hikaru Pink', 'Hikaru Rose', 'Hikarugenji Rosea', 'Pink Hikarugenji', 'Hikarugenji-aka', 'Pink Jordan's Pride', 'Red Jordan's Pride'. 'Powell's Pink', 'Hermi Pink', 'Hermi Red', 'Hermi Red Rose', 'Herme Pink', 'Majestic', 'Jor­dan's Pride Red', 'Hikarugenji Red'. Originated in Japan. In Japan this cultivar is more gener­ally known by the different reading 'Kōbotan'.
» Chinese Description
朱國棟、蔡燦玉,2011. 《台灣茶花族譜》,p.25.
Benibotan 红牡丹(Red Peony)。 (C. japonica)红山茶。1859,日本关东。Hikarugenji (光源氏) 的红色枝变种。半重瓣〜牡丹、大轮(10 x 5cm)、花期1〜3月。不同读音:Kōbotan。
别名:Bastita、Harmonious、Herme Pink、Herme Red、Herme Rose、Herme Sport No.1、Hikaru Pink、Hikaru Rose、Hikarugenji-Aka、Hikarugenji Pink、Hikarugenji Red、Hikarugenji Rosea、Jordan's Pride Red、Majestic、Pink Herme、Pink Hikarugenji、Pink Jordan's Pride、Powell's Pink、 Radiant Glow、Red Herme、Red Jordan's Pride、Rosy Down、Wings 。
Benibotan (粉姬)一新竹市茶花产销班目录,2002-2006, p.49, B46.