Type Image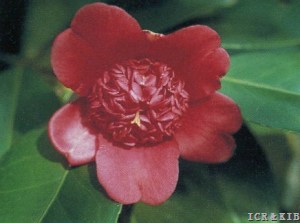 Chosen by wangzhonglang
Id:ICR-1388
Country:Japan
Year Published/Registered:1879
Cultivar Type:For Ornamental
AGM Type:
Scientific Name:Camellia japonica 'Benikarako'
Species/Combination:C. japonica
Chinese Name:红唐子
Japanese Name:紅唐子 べにからこ
Meaning:Red anemone
Synonym:
Aka-bokuhan Nihon Shokubutsu Kaisha Catalogue, 1912-1913, p.27: Synonym for Benikarako.
Benibokuhan Chūbu Tsubaki Kyōkai, 1960, Tsubaki Meikan.Different reading: 'Akabokuhan'; synonym for Benikarako.
Benibokuhan (Chūbu) Seibundō Shinkōsha, 1979, Senchinshū, p.245. Synonym for Benikarako as 'Jikkō'.
Benikarashi Duke of Devonshire, 1969, RHS, The Rhodendron and Camellia Yearbook, No,23, p.2 as "as imported from Japan." This would seem to be a corruption for Benikarako.
Beni-koraka Lindo Nursery Catalogue, 1948, p.6. Corruption of the Japanese name Benikarako.
8 show +
» English Description
Itō, Ko'emon, 1879, Chinkashū: Vermilion red, medium to small size, anemone form. See colour photo, p.194, Adachi, 1960, Camellia. Its Appreciation and Artistic Arrangement; Tuyama 1966, Camellia Cultivars of Japan, pl.38, p.72 as 'Jikkō'; Encyclopedia of Camellias in Colour, vol.I, 1972, pl.365 & p.346, and Seibundō Shinkōsha, 1979, Senchinshū, p.134: Five to seven large, outer guard petals, surrounding a tight, compact crown of petaloids with protruding pistil. The flower is 6-7 cm in diameter. Mid-season flowering. Leaves, dark green, Medium size, elliptic to long-elliptic, flat, apex acute; base obtuse, fine, sharp serrations. Vigorous, erect growth. See Yokoyama & Kirino, 1989, Nihon no Chinka, p.359. In America, this cultivar name was erroneously applied to Kumasaka. It was also corruptly spelt: 'Beni-­karoko', 'Beni-koraka', 'Beni-koroka', 'Beni-ko-roki', 'Benikoroko', 'Beni-koroku', 'Beni­kuruku', 'Beni-Karashi'. Different readings: Kōkarako'. Synonyms: 'Jikkō, in the Reikanji, Kyōto, 'Nikkō', 'Hibikari', 'Beni-bokuhan' in Chūbu area. Sports: Bokuhan-nishiki. Kifukurin-benikarako in Kasuya, 1859, Tsubaki Irohanayose Irotusuki is believed to be a sport of Benikarako. Originated in Kantō District, Japan.