Type Image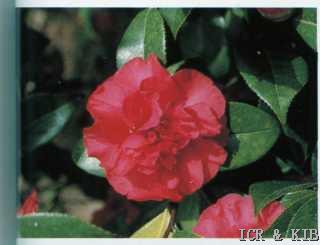 Chosen by wangzhonglang
Id:ICR-1393
Country:Japan
Year Published/Registered:1972
Cultivar Type:For Ornamental
AGM Type:
Scientific Name:Camellia japonica 'Benikujaku'
Species/Combination:C. japonica
Chinese Name:
Japanese Name:紅孔雀(新潟) べにくじゃく(にいがた)
Meaning:Red peacock
Synonym:
Benikujaru Hazlewood & Jessep, 1972, Checklist - Camellia Cultivars from Nursery Catalogues, p.22. Corruption of the Japanese name Benikujaku.
» English Description
Craig, 1972, American Camellia Yearbook, p.57; Seibundō Shinkōsha, 1979, Senchinshū, p.245: Black red, petals up to 190, irregular peony form to rose form double. Medium size. Mid-season flowering. Leaves, medium size, wide-ovate, serra­tions inconspicuous, flat. Originated at a private family in Nishi-kanbara-gun, Niigata Prefecture, Japan. Collected by Susumu Ishizawa, named and released by Kaoru Hagiya in 1966. Corruption of name: 'Benikujara'.