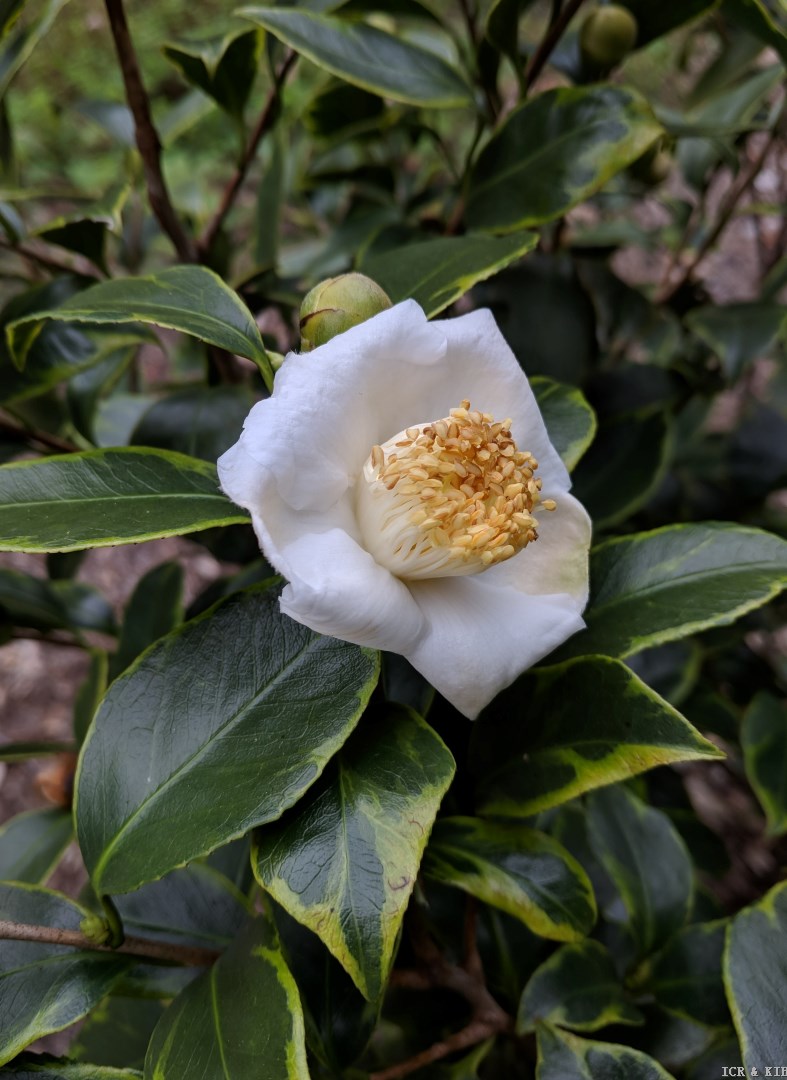 Type Image Chosen by wangzhonglang
Id:ICR-1447
Country:Japan
Year Published/Registered:1975
Cultivar Type:For Ornamental
Scientific Name:Camellia japonica 'Benten-shiratama'
Species/Combination:C. japonica
Chinese Name:弁天白玉
Japanese Name:弁天白玉 べんてんしらたま
Meaning:Benten's White Jewel
Synonym:
Shiratama-benten Yokoyama, 1975, Gendai Tsubaki Meikan, p.210; Izu-Oshima, 1980, Hawaii Botanic Garden, List of Plants as 'Shiratamabenten'; Inazawa Nurseries Co Ltd. Catalogue, 1980-1981, p.16, D-121: Single white with variegated leaves. Synonym for Benten-shiratama.
弁天白玉 杨绍溥,1978,台湾茶花,p.71, No.120. 茶花林目录,1992-2006, p.2/28, No.1252.
» English Description
Yokohama, 1975, Gendai Tsubaki Meikan, p.210, black and white photo and description; Seibundō Shinkōsha, 1979, Senchinshū, p.137, colour photo, p.246, description: A small, 6-7 cm wide, white single, bell-shaped, 7 petals; cen­tral stamens in a column, early flowering. Leaves, broad-elliptic, medium size, acuminate apex, yellow variegation of margins; no serrations. Plant habit, vigorous, bushy growth. See Yokoyama & Kirino, 1989, Nihon no Chinka, p.51, colour photo. Originated in Kantō District, Japan by Takahashi, Keizō. Nippon Tsubaki - Sasanqua Meikan, 1998, p.236 with colour photo; English translation p.165. A mutation of Meigetsu.