Type Image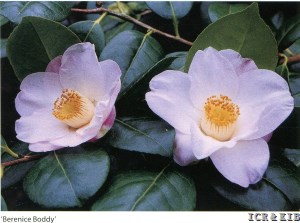 Chosen by Gianmario Motta
Id:ICR-1459
Country:United States
Year Published/Registered:1947
Cultivar Type:For Ornamental
AGM Type:RHS-AGM
Scientific Name:Camellia japonica 'Berenice Boddy'
Species/Combination:C. japonica
Chinese Name:剑山芝兰
Japanese Name:
Meaning:
Synonym:
Bainisi Baodi Gao, Jiyin, Ltr 25-5-90. Chinese synonym for the USA C.japonica Berenice Boddy. Orthographic error 'Benisi Baodi'.
Benisi Baodi Orthographic error for Berenice Boddyi.
Bernice Boddy Blackwell Nursery Catalogue, 1954-1955. Orthographic error for Berenice Boddy.
Bernice Bodly Barnes Foundation Checklist, 1975. Orthographic error for Berenice Boddy.
S 101 Williams & Thompson, 1950, American Camellia Yearbook, p.45. Jones' designation for Berenice Boddy.
1 show +
» English Description
SCCS, 1947, The Camellia. Its Culture and Nomenclature: Light pink with deeper pink under the petals. Medium large semi-double, about 8 cm across with 5 upright petals in the centre forming a cup around delicate white filaments. Leaves, dark green, lanceo­late, base round, somewhat leathery. Plant habit, vigorous, rapid, erect and spreading. Origi­nated at the Rancho del Descanso and developed by Jones, Sierra Madre, California, USA. Named for Mrs Manchester Boddy, wife of the publisher of the Los Angeles Daily News. U.S. Plant Patent No.605. (Fendig, 1953). Orthographic errors: 'Bernice Boddy', 'Bernice Bodley'. Sports: Kathryn Hall, Berenice Boddy Variegated. For colour photo see: Pl. No.11, p.25, Encyclopedia of Camellias in Colour, vol.II, 1978. Chinese synonym: 'Benisi Baodi'. This cultivar was awarded as an AGM (Award of Garden Merit) plant by the Royal Horticultural Society in 1993 at H5 rate (hardy: cold winter; -15°C to -10°C).
» Chinese Description
朱國棟、蔡燦玉,2011. 《台灣茶花族譜》,p.26.~27.
Berenice Boddy 剑山芝兰 (C. japonica) 红山茶。 (植物专利字号:No.605) 。 1947,美国加州 Sierra Madre,Descanso & Jones培育作出。半重瓣、淡粉、花瓣背面深粉、中轮(8cm)、花心少量杯状直立瓣、花期1〜2月、树性直立〜横张、长势强。突变种:Kathryn Hall。
Berenice Boddy.(剑山芝兰)一茶花林目录,1992-2006, p.2/28, No.473.