Type Image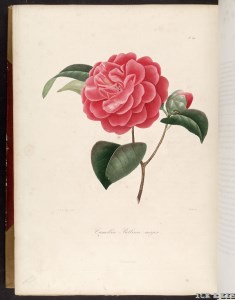 Chosen by Gianmario Motta
Id:ICR-1526
Country:Italy
Year Published/Registered:1840
Cultivar Type:For Ornamental
AGM Type:
Scientific Name:Camellia japonica 'Bettina Major'
Species/Combination:C. japonica
Chinese Name:
Japanese Name:
Meaning:
Synonym:
Beltina Major Costa, 1846, Catalogue de la Collection de Camellias présentée à sa majesté L'lmpératrice de toutes les Russies et Reine de Pologne. Orthographic error for Bettina Major.
» English Description
Berlèse, 1840, Monographie, ed.2, p.213; colour plate No.294, Berlèse, 1843, Iconographie: Flower of over 10 cm across, double, of a clear red, becoming dark, when fully open, veined with purple. Petals at the circumference are in 10 rows, broad, rounded and regu­larly placed while those of the interior are very small, formed in fascicles, large and high, lightly striped with white; sometimes stamens in a state of incomplete development, decorate the centre and add to the flower a touch of novelty. Originated by Casoretti, Italy. Orthographic error: 'Beltina Major.'.