Type Image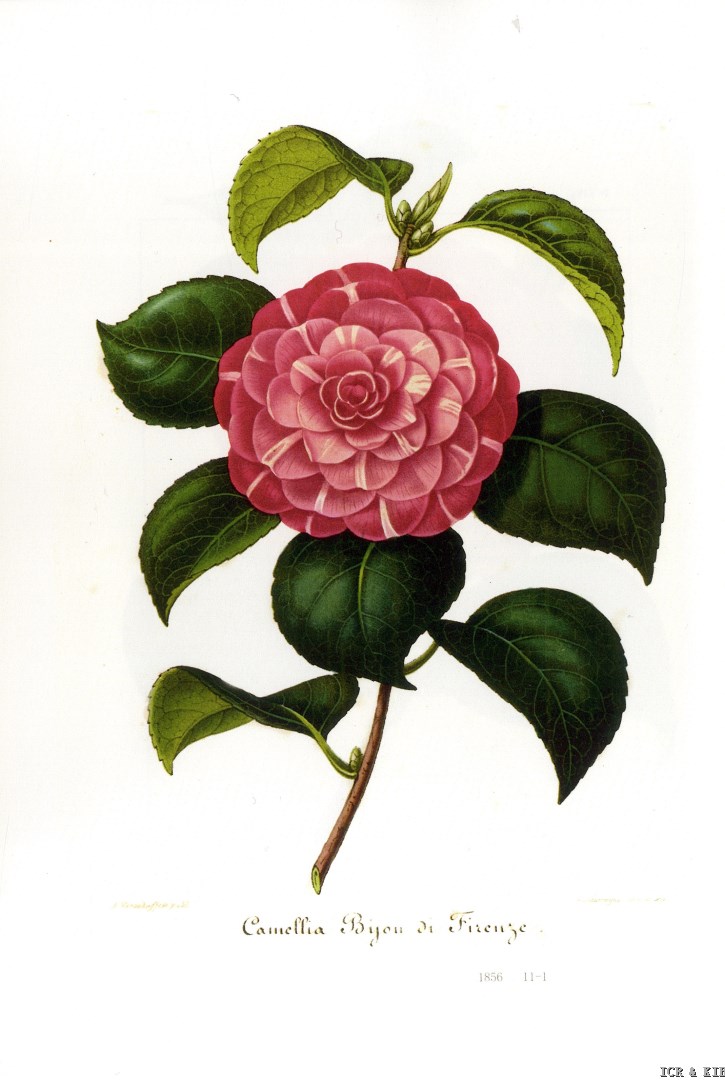 Chosen by Gianmario Motta
Id:ICR-1636
Country:Italy
Year Published/Registered:1855
Cultivar Type:For Ornamental
AGM Type:
Scientific Name:Camellia japonica 'Bijou di Firenze'
Species/Combination:C. japonica
Chinese Name:
Japanese Name:
Meaning:
Synonym:
Bijou de Florence Burdin Maggiore & Co. Catalogue, 1880-1881. Orthographic variant for Bijou di Firenze.
Bijou di Firinzi Azalea and Camellia Society of America Yearbook, 1933, p.27, 29. Orthographic error for Bijou di Firenze.
» English Description
Franchetti, 1855, Collezione di Camelie, p.1: Of medium size, perfectly imbricated, vivid red at the cicumference, pink at the centre, the petals streaked and lightly edged white. Verschaffelt, 1856, Nouvelle Iconographie, Book XI, pl.I: Jewel.of Florence. The ruddy and variegated colouring of this floral miniature justifies the name. Its irnbrication is flawless, the outspread, rounded-oval petals, a vivid carmine at the circumference, rose-red near the centre, which is also carmine, all intersected and faintly emarginated by white. Leaves, small and elegant. Originated by Cesar Franchetti, Florence, Italy. Orthographic error: 'Bijou di Firinzi'. Orthographic variant: 'Bijou de Florence'.