Type Image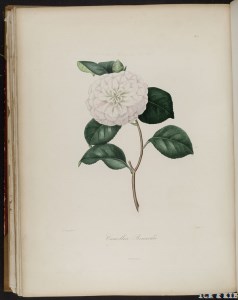 Chosen by Gianmario Motta
Id:ICR-1801
Country:Italy
Year Published/Registered:1840
Cultivar Type:For Ornamental
AGM Type:
Scientific Name:Camellia japonica 'Bonardii'
Species/Combination:C. japonica
Chinese Name:
Japanese Name:
Meaning:
Synonym:
Bonnardii Berlèse, 1841, Iconographie, pl.71. Orthographic error for Bonardii.
» English Description
Berlèse, 1840, Monographie, ed.2, p.218, 237; Illustr. pl.71, Berlèse 1841, Iconogra­phie: Leaves, 9 cm long x 5 cm wide, ovate-rounded, thick, prominent venation, sharply serrate, dull green. Buds elongated, scales green. Flower, 8-9 cm across, white with a reflection of flesh-­pink just perceptible with a few deep red streaks; outer petals strap-like, on an average, reflexed, notched and imbricated; those following are smaller but of similar shape and like­wise imbricated and notched. The corolla is round and rose-like and sometimes irregular. Berlèse 1843, says it was named by M. Paillet, but in his Monographie, 1845 says that it was origi­nated by Ridolfi. Paillet, 1844, in his article "Camélias, Rhododendrons et Azaleas" gives himself as the originator. Orthographic variants: 'Bonnardii', 'Bornadii'.