Type Image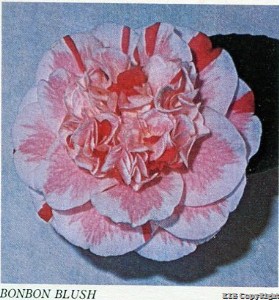 Chosen by Gianmario Motta
Id:ICR-1806
Country:United States
Year Published/Registered:1974
Cultivar Type:For Ornamental
AGM Type:
Scientific Name:Camellia japonica 'Bonbon Blush'
Species/Combination:C. japonica
Chinese Name:
Japanese Name:
Meaning:
Synonym:
Bon Bon Blush Hazlewood & Jessep, 1972, Checklist - Camellia Cultivars from Nursery Catalogues, p.28. Orthographic variant for Bonbon Blush.
» English Description
SCCS, 1974, Camellia Nomenclature, p.29: A sport of Bonbon. Deep pink with each petal edged white. Originated at McCaskill Gardens, Pasadena, California, USA. For colour photo see p.130, Macoboy, 1981, The Colour Dictionary of Camellias. Orthographic variant: 'Bon Bon Blush'.