Type Image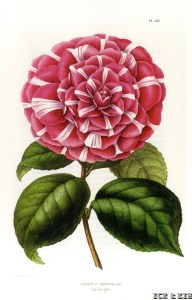 Chosen by Gianmario Motta
Id:ICR-1838
Country:Italy
Year Published/Registered:1844
Cultivar Type:For Ornamental
AGM Type:
Scientific Name:Camellia japonica 'Borgia'
Species/Combination:C. japonica
Chinese Name:
Japanese Name:
Meaning:
Synonym:
Borghi Fratelli Rovelli Catalogue, 1852, p.12. Orthographic error for Borgia.
Borghia van Houtte, 1852-1853, Catalogue, 48:36. Orthographic variant for Borgia.
La Borgia Franchetti, 1855, Collezione di Camelie, p.38. Synonym for Borgia.
» English Description
Verschaffelt, 1844, Catalogue No.50, p.18.Oudin Nursery Catalogue, 1845-1846, p.42. No description. Cachet Catalogue, 1845-1846, p.6; illustr.pl.182. p.87, Spae, 1848, Annals de Gand, vol.4; Berlèse, 1849, Annales de la Société Central d'Horticulture de Paris, p.276: Formal double, 9-10cm across, bright pink, almost cerise with broad white stripes. Petals in 5-6 rows, the outer rounded, the others oblong. Central petals narrow, entire, reflexed and veined red. Imbrication slightly loose. Corolla flat and round: pl.3, Book IV, Vershaffelt, 1851, Nouvelle Iconographie: Pale cerise, formal double with broad bands of white in the centre of each petal, the stripes themselves sometimes striated with pink; petals rounded at the exterior becoming almost pointed towards the centre. Van Houtte erroneously gives this camellia as a synonym for 'Empereur de Russie' Orthographic variants: 'Borghia', 'Borghi', 'La Borghia'. Synonym: 'La Borgia'. Originated in Italy.