Type Image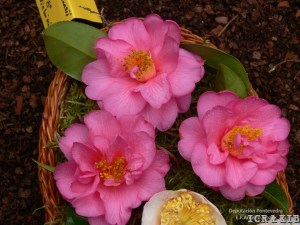 Chosen by Gianmario Motta
Id:ICR-2071
Country:United Kingdom
Year Published/Registered:1958
Cultivar Type:For Ornamental
AGM Type:
Scientific Name:Camellia 'Caerhays'
Species/Combination:C. williamsii
Chinese Name:
Japanese Name:
Meaning:
Synonym:
Caerhayes Drake, 1974, Gardeners' Chronicle, p.378-379. Orthographic error for Caerhays.
» English Description
Puddle, 1958, NCCS, The Camellia Bulletin, vol.12, No. l, p.23: "Of these newly named hybrids, the one most generally noticed by visitors is one of the C.saluenensis and 'Lady Clare' (Akashigata) crosses known as Caerhays - a large anemone to peony form, bright rosy mauve, free flowering, spreading habit.". The original plant is at Caerhays, Cornwall, England where it originated. Received an RHS "Award of Merit" April 29th 1969. Colour photo, p.168, 1970, RHS, Rhododendron and Camellia Yearbook, No.24.