Type Image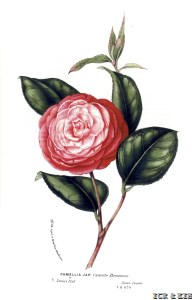 Chosen by Gianmario Motta
Id:ICR-2136
Country:Italy
Year Published/Registered:1845
Cultivar Type:For Ornamental
AGM Type:
Scientific Name:Camellia japonica 'Camille Brozzoni'
Species/Combination:C. japonica
Chinese Name:
Japanese Name:
Meaning:
Synonym:
Brozzoni Camillo Antofilo, ed., 1857, I Giardini, giornale d'orticultura, vol.IV, p.97. Synonym for Camille Brozzoni.
Cam. Brozzoni Von Biederfeld, 1856, Practische Grundlehren der Cultur van Camellien..., p.35. Abbreviation for Camille Brozzoni.
Camile Brozzoni Anderson & Co. Catalogue, 1897, p.79. Orthograhic error for Camille Brozzoni.
Camilla Brozzoni Medici Spada, 1857, Catalogo nel Giardino a Villa Quiete, p.8. Orthographic vari­ant for Camille Brozzoni.
Camille Brozoni Vanderbilt, 1940, Camellia Research, p.2. Orthographic error for Camille Brozzoni.
3 show +
» English Description
van Houtte,1845-1846, Catalogue, 23:2 as 'Brozzoni'. No description. Berlèse, Annales de la Société Central d'Horticulture de Paris, vol.40, 1849, p.276: Formal double bicolour, 10-11cm across, outer petals ample, rounded at the apex, some indented, others entire. Cup-shaped, bright cherry-red, regularly marked with white on some petals and symmetrically imbricated. Verschaffelt, 1855, Nouvelle Iconographie, Book V, pl. I: This pretty Camellia has been in com­merce for some years and its flowers, with their ruddy, peach colouring, white margins and perfect imbrication, have a peculiar arrangement of petals with their upturned edges, giving a cupped form. It was obtained from seed in Brescia, Italy by Mr Camille Brozzoni, whose name it bears. Orthographic errors and variants: 'Bronzonia', 'Brozzon', 'Brozzoni', 'Camillo Brozzoni', 'Camille Brozxoni', 'Camile Brozzoni', 'Camille Brozzine', 'Cammillo Brozzoni', 'Brozzoni Vera', 'Brozzoni Camillo', 'Camilla Bronzzoni', 'Bronzoniana', 'Cammillo Brozzoni', 'Cam Brozzoni'.