Type Image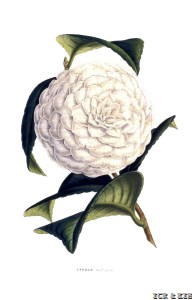 Chosen by Gianmario Motta
Id:ICR-2179
Country:United Kingdom
Year Published/Registered:1842
Cultivar Type:For Ornamental
AGM Type:
Scientific Name:Camellia japonica 'Candor'
Species/Combination:C. japonica
Chinese Name:
Japanese Name:
Meaning:
Synonym:
Candeur Henrincq, 1849, Revue Horticole, p.461 -467. Orthographic variant for Candor.
Candor Nevius Oudin, Lisieux Nursery Catalogue, 1845-1846, p.42. A synonym for Candor.
» English Description
Chandler & Son, "On the Culture of the Camellia", 1842, Gardeners' Chronicle, 324(8):123: An English seedling raised by the Reverend Herbert, described by van Houtte as "finely imbricated, petals extremely thin and delicate, of the purest white, one petal only reflecting a light rosy tint." It was illustrated by van Houtte in the Flore des Serres, vol.5, Aug. 1849, F.501. Orthographic variant: 'Candeur'. Synonym: 'Candor Nevius'.