Type Image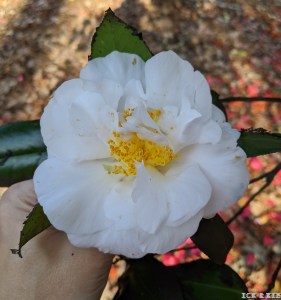 Chosen by Gianmario Motta
Id:ICR-2211
Country:United States
Year Published/Registered:1951
Cultivar Type:For Ornamental
AGM Type:
Scientific Name:Camellia japonica 'Caprice (South)'
Species/Combination:C. japonica
Chinese Name:
Japanese Name:
Meaning:
Synonym:
Caprice (1) Fendig,1953,American Camellia Catalogue. Synonym for Caprice (South).
» English Description
SCCS, 1951, The Camellia. Its Culture and Nomenclature: White, medium size semi-double. Origin credited to C.S. Tait, Georgia, USA who developed it from seed planted in the mid 1920's. Originally known as 'Caprice', the name of Caprice (South) was given to it to distinguish it from the peony form. Synonym: 'Caprice (1)'.