Type Image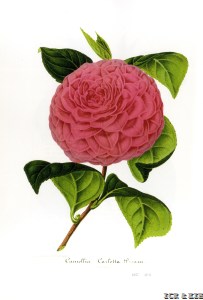 Chosen by Gianmario Motta
Id:ICR-2285
Country:Italy
Year Published/Registered:1855
Cultivar Type:For Ornamental
AGM Type:
Scientific Name:Camellia japonica 'Carlotta Pisani'
Species/Combination:C. japonica
Chinese Name:
Japanese Name:
Meaning:
Synonym:
Carlota Pisani da Silva, 1880, Foreign Varieties of Camellias at Oporto, p.4. Orthographic error for Carlotta Pisani.
» English Description
Franchetti, 1855, Collezione di Camelie, p.17: Perfect imbrication, bright pink with the apex of the petals incurved. Verschafelt, 1857, Nouvelle Iconographie, Book XII, pl.II: Blossoms of largest size of uniform pink; perfectly imbricated, with an upright, full heart; very numerous petals which are oval lanceolate and somewhat acute. Originated by Negri, Milan, Italy.