Type Image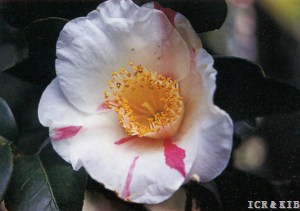 Chosen by wangzhonglang
Id:ICR-2847
Country:Japan
Year Published/Registered:1970
Cultivar Type:For Ornamental
AGM Type:
Scientific Name:Camellia japonica 'Chūkyōbijin'
Species/Combination:C. japonica
Chinese Name:中京美人
Japanese Name:中京美人 ちゅうきょうびじん
Meaning:Beautiful Nagoya woman
Synonym:
Chuhkyoh-bijin Andoh, 1971, Tsubaki, Meika no Shōkai to Saibai.Different reading for Chūkyōbijin.
Chyūkyō-bijin Different reading for Chūkyōbijin.
Cyūkyobijin Sato, 1975, Chūbu no Tsubaki.Different reading for Chūkyobijin.
» English Description
Watanabe, 1970, Kyōto Engei Kurabu, Tsub­aki Tokushū, No.10, p.116; Encyclopedia of Camellias in Colour, vol.I, 1972, p.82, pl.141, description, p.312; Seibundō Shinkōsha, 1979. Senchinshū, p.95 & p.230: A medium size, cup formed, white single, with one or two large splashes of vermilion, 5-6 large, rounded petals with some frilled edges. Stamens about 110, spreading and short. Anthers dull gold, filaments creamy white. Mid-season flowering. Leaves, elliptic, dark green, slow acuminate, reflexed apex, margins serrulate. Different readings: 'Chuhkyoh-bijin', 'Cyūkyō-bijin', 'Chyūkyō-bijin', 'Chuh Kyoh Bijin'. Margined flower sport: Nagoya-obi. Originated by Asai, Shinichi, Hachikai-mura, Ama-gun, Aichi Prefecture, Japan in 1968. Registered by the Chūbu Camellia Society. Flower form resembles Shūfūraku. Sport: Chūkyō-reijin.