Type Image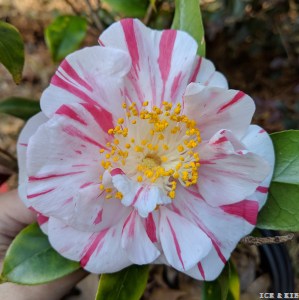 Chosen by Gianmario Motta
Id:ICR-2605
Country:United States
Year Published/Registered:1947
Cultivar Type:For Ornamental
AGM Type:
Scientific Name:Camellia japonica 'Cheerio'
Species/Combination:C. japonica
Chinese Name:
Japanese Name:
Meaning:
Synonym:
Cheero-o Fendig, 1953, American Camellia Catalogue. Orthographic error for Cheerio.
» English Description
SCCS., 1947, The Camellia. Its Culture and Nomenclature: White striped or flecked with red to solid pink and ocasionally half red and half white. Medium large, semi-double. Medium, compact growth. Fendig, 1950, American Camellia Catalogue: A white variegated flower, varying in form from semi-double to incomplete double, 8-11 cm across. Colour vari­able, having as many as five different colour combinations, ranging from white, flecked and streaked with light, clear pink, to self chrysanthemum-crimson but characteristically varie­gated red, pink and white. The anthers are yellow. Leaves are dark green, stiff, glossy, oval and turn downwards, 8-11 cm long by 5-5.5 cm wide. Venation obscure, serrations shallow and apex acuminate. Plant is tall and compact of average growth rate. Originated by John S. Arm­strong, Ontario, California, USA. For black and white photo see p.35, Hertrich, 1959, Camellias in the Huntington Gardens, vol.III. Orthographic error: 'Cheero-o'.