Type Image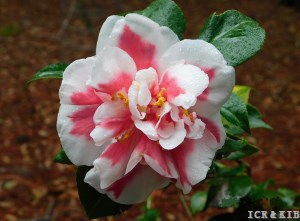 Chosen by Don Bergamini
Id:ICR-23738
Country:United States
Year Published/Registered:2019
Cultivar Type:For Ornamental
AGM Type:
Scientific Name:Camellia japonica 'Christmas Day'
Species/Combination:C. japonica
Chinese Name:
Japanese Name:
Meaning:
Synonym:
Christmas Cheer (Pat B. Johnson) As 'Christmas Cheer' had already been used before, this cultivar rename to Christmas Day.
» English Description
Christmas Day. (C. japonica). ACS Registration Number 3166.Registered in 2019. This 17-year-old C. japonica chance seedling of 'MerryChristmas' first bloomed in 2015. It was originated, registered andpropagated by Pat B. Johnson of Cairo, Georgia. Bloom: The medium sized 9.5 cmx 6.4 cm loose peony form flower is red with a wide white border on each petal.It has yellow anthers and pink filaments. This profuse bloomer is long lasting,has heavy petal texture, a consistent form and falls in one piece. Plant: Theplant habit is upright and open. The growth rate is average. The plant issuitable for landscaping and exhibition uses. Leaf: The medium green leaveshave low serration and average 6.4 cm x 3.8 cm. Bloom season: Early tomidseason.