Type Image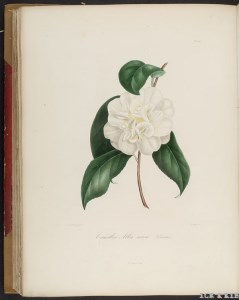 Chosen by Gianmario Motta
Id:ICR-2917
Country:United Kingdom
Year Published/Registered:1836
Cultivar Type:For Ornamental
AGM Type:
Scientific Name:Camellia japonica 'Claritas'
Species/Combination:C. japonica
Chinese Name:
Japanese Name:
Meaning:
Synonym:
Alba Elegans van Houtte, 1839-1840, Catalogue,1:1. Synonym for Claritas.
Alba Elegant Cachet Catalogue, 1840-1841, p.2, Synonym for Claritas.
Alba Nova Berlèse, 1843, Iconographie, vol.2, pl.155. Synonym for Claritas.
Alba Novissima Auguste van Geert Catalogue, 1848, p.14. Orthographic variant for 'Alba Nova', synonym for Claritas.
Claretas Warrens Descriptive Catalogue,1844, p.37. Orthographic error for Claritas.
4 show +
» English Description
Anonymous, 1836, L'Horticulteur Belge Journal..., 1836, vol.3, p.94: Amongst the camellias that received a "Mentionuées honorablement" was camellia Claritas of M. Moens. Berlèse, 1840, Monographie, ed.2, p.76, 98, 225: Leaves 4.8 cm wide by 10 cm long, lanceolate, twisted, similar to the camellia Conspicua; buds, ovate-obtuse, large, scales yellowish; flower, 8.5 cm across, double, white; exterior petals in many rows, well displayed and imbricated; those of the centre are anemone form, numerous, short and forming a broad equally centre simiar in type to Nobilissima. Illustrated in Berlèse, Iconographie, pl.155. Synonyms: 'Alba Nova', 'Alba Elegans', 'Elegans Alba', 'Claritas Alba Elegans'. Orthographic errors: 'Claridas', 'Claretas','Claristo'. Originated in Britian.