Type Image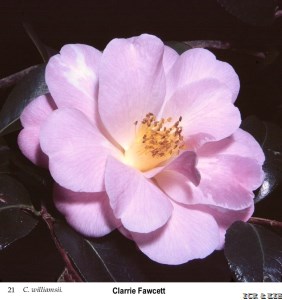 Chosen by wangzhonglang
Id:ICR-2921
Country:Australia
Year Published/Registered:1957
Cultivar Type:For Ornamental
Scientific Name:Camellia 'Clarrie Fawcett'
Species/Combination:C. williamsii
Chinese Name:克拉丽
Japanese Name:
Meaning:
Synonym:
Kelali Gao, Jiyin, 2007, The Identification....Outstanding Camellias, p.415; Chinese synonym for the Australia C.x williamsii Clarrie Fawcett.
» English Description
ANZCRS., 1957, Camellia Annual, No.4, p.7, Reg. No.21: No. 9 in a batch of seedlings from C.saluenensis raised by E.G. Waterhouse, Gordon, N.S.W., Australia in 1946 and given to W.G. Hazlewood, Epping, N.S.W., in 1948. Semi-double, amaranth rose, mid-season, free flowering and in a type similar to Margaret Waterhouse.
» Chinese Description
高继银、苏玉华、胡羡聪,2007. 《国内外茶花名种识别与欣赏》,第287页。澳大利亚E.G.Waterhouse先生培育,系由怒江红山茶的大量实生苗中选育而得。花粉红色,半重瓣型,中型花,花瓣宽圆形,排列整齐,花心可见黄色雄蕊,花朵稠密。叶片浓绿色,椭圆形,植株紧凑,生长旺盛。花期中。