Type Image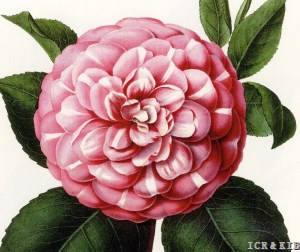 Chosen by Gianmario Motta
Id:ICR-3012
Country:Italy
Year Published/Registered:1844
Cultivar Type:For Ornamental
AGM Type:
Scientific Name:Camellia japonica 'Coelestrina Vera'
Species/Combination:C. japonica
Chinese Name:
Japanese Name:
Meaning:
Synonym:
Caelistina Vera Verschaffelt Catalogie, 1849-1850, p.45. Orthographic error for Coelestrina Vera.
Coelestiana Vera Vanderbilt, 1940, Camellia Research, p.3. Orthographic error for Coelestrina Vera.
Coelestina Vera Oudin's Catalogue of Plants for the Conservatory, 1845. P.2. Orthographic error for Coelestrina Vera.
» English Description
Verschaffelt, 1844, Catalogue No.50, p.19. No description. Geldorf, Const., 1844, Catalogue of Plants and Price List, p.5, as 'Coelestina': Double, pale cerise, whiter towards the centre. Foliage consistently larger than that of Hendersonii or Lombardii. Verschaffelt, 1849, Nouvelle Iconographie, Book III, pl.II as 'Coelestina Vera': We received this camellia from Baron Pronay under the above name, which we have kept to distinguish it from another C. 'Coelestina' which it resembles and which is also known under the names 'Lombardii' and 'Hendersonii'. Its large, full flowers, at least 10 cm across, are lilac pink, freely streaked with white. The outer petals are wide, regularly imbricated, slightly emarginate and decrease in size towards the centre and are irregularly arranged. Orthographic error: 'Coelestina Vera'.