Type Image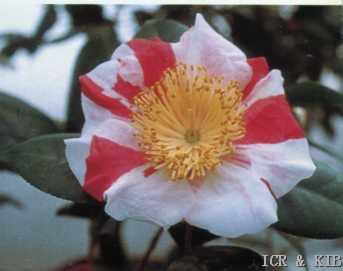 Chosen by Sueo Takano
Id:ICR-3574
Country:Japan
Year Published/Registered:1990
Cultivar Type:For Ornamental
AGM Type:
Scientific Name:Camellia 'Daikanhō'
Species/Combination:Higo
Chinese Name:
Japanese Name:大観峰 だいかんほう
Meaning:Place name of Mt. Aso
Synonym:
Daikanpō Different reading for Daikanhō.
Daikanhô The International Camellia Register, 1993, Thomas Savige.
» English Description
ICS., 1990, Japanese Camellia Cultivar List, p.5. Higo Rokka, [ca.1989], p.32: Large size, 13-15 cm across with 6 petals, white ground with red variegation. Originated in the Kumamoto Prefecture, Japan. There is confusion between Taikanhō and Daikanhō. They can both be read as 'Taikanpō' or 'Daikanpō'. Taikanhō is first listed in Higo Tsubaki Meikan, 1961 by Yoshimura. Another alternative reading 'Daikanbō'.