Type Image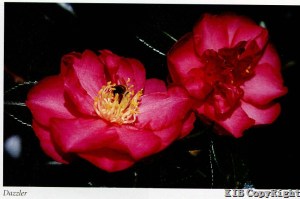 Chosen by wangzhonglang
Id:ICR-3733
Country:United States
Year Published/Registered:1960
Cultivar Type:For Ornamental
AGM Type:
Scientific Name:Camellia hiemalis 'Dazzler'
Species/Combination:C. hiemalis
Chinese Name:眼花撩乱
Japanese Name:
Meaning:
Synonym:
Dazzun Nantes, 1982, Services des Espaces -Collections. Orthographic error for Dazzler.
Shanguan Zhichen (Gleaming Lining),Gao & Zhuang, 1989, The Camellia in China, p.75, No.553. Chinese synonym for the USA C.sasanqua Dazzler.
眼花撩乱 茶花林目录,1992-2006, p.7/28, No.1311.
» English Description
Nuccio's Nurseries Catalogue, 1960: Rose-red. Semi-double, 8 cm in diameter. Flowers early. Originated by Nuccio's Nurseries, Altadena, California, USA. See colour photo, front cover, SCCS, 1961, The Camellia Review, vol.23, No.1. Orthographic error: 'Dazzun'.