Type Image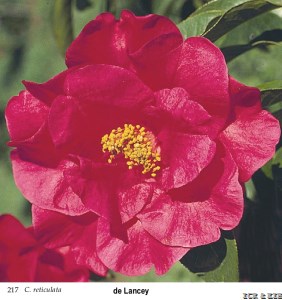 Chosen by wangzhonglang
Id:ICR-3741
Country:Australia
Year Published/Registered:1979
Cultivar Type:For Ornamental
AGM Type:
Scientific Name:Camellia reticulata 'De Lancey'
Species/Combination:C. reticulata
Chinese Name:
Japanese Name:
Meaning:
Synonym:
Delancey Gentry, 1984, ACS., The Camellia Journal, vol.39, No.4, p.17. Orthographic error for De Lancey.
» English Description
ACRS., 1979, Camellia News, No.72, p.26, Reg. No.217: Originated by E.R. Sebire, Wandin North, Victoria, Australia. A chance seedling of William Hertrich that first bloomed 1970. The plant is upright with mid-green, 12 cm x 5 cm, lanceolate leaves. The 15 cm, dark red, semi-double flowers, bloom mid-season. Orthographic error: 'Delancey'.